New Sexuality
The XX century's new era brought big transitions and transformations in culture, economy, and politics. At the same time, a new awareness of the new fashion era coincides with the corset's official rejection in 1913. Women completely change their own roles. She is no longer just a doll for salons or someone who only takes care of herself. Women now is not just a mother, wife, but she becomes a person who has her interests, occupations, and job. One very interesting Netflix show, The Cable Girls, demonstrate a woman's determination to be independent herself, to express her own feelings by taking care of essential things..also, you can notice her as a part of social life, but this time as her own, not the way from before, how other wants. Since a woman with this transition accepts men's jobs where she has to make certain decisions, her appearance also changes. She starts to wear comfortable clothes,  without tightness and too many details. However, "the shaping" of this 1923 fashion revolution was contributed by Coco Chanel and Jean Patou.
Conditioned by big changes, the "Boy" fashion is created, which has simplified lines, straight cuts, and without so much detail. The non-emphasis of the body has been accepted by women worldwide, of different professions and stratum. With this appearance, women proved equality with the male sex so as not to be underestimated. By dressing like this, they hid the curves. The lowered waist on the dresses was associated with that. They cut their hair in the pageboy but decorated it with hats called "Cloche hat." You probably think now how much a woman has "lost" with such revolutions, but the truth is that she has never lost her sexuality and eroticism. She radiated a different kind of sensuality – "Intellectual, sophisticated sex appeal."
Photo: medium.com
Fashion after the first war, did not stop developing at high speed. Women reveal legs, even up to the knees, and in that way, the accent has been given to shoes, which have a pointed toe, with slightly higher heels. The thing that attracts special attention are the stockings. And the most attractive were silk stockings in the skin color. Strong make-up in the evening time, bright complexion, red lipstick that fantastically emphasizes female beauty, and the red nail polish only intensified her seduction. Here it's clear that pre-war fashion will not return and that everything is evolving and changing at an incredible speed. That is most difficult for moralists and stereotypes who have not accepted such changes for a long time.
Photo: footwear.com; pinterest.com
Interestingly, the fashion industry has developed so that fashion has become available to everyone, regardless of profession and social class. Haute couture remains less accessible to everyone, but this ends the five-year reign of the "Garson" style.
The difference between a day dress and an evening dress is noticeable through the materials and small details. Sparkling materials and a slight emphasis on the female body also belong to the evening dressing. Asymmetry is becoming very popular, and diagonal cutting exceeds the modest possibilities of ready-made and studio production.
It's well-known that the period before the Second World War caused hopelessness, poverty, and economic depression immediately after closing the New York Stock Exchange in 1929. However, fashion has also changed. The thirties are cosmopolitanism, a slightly different spirit of classicism, a predisposition for modernism, the development of mass production and new materials. The appearance of a woman and her role was no longer just a reflection of transformation, but she became the main initiator.
Women's role in the fashion revolution has manifested through woman fashion designers' appearance and big names of that time.  With their talent and a strong sense of fashion, they contributed to fashion development in the thirties and forties, as someone who can fully understand a woman and her development. In this period, we have met to more modified forms compared to the twenties. Accentuated shoulders, a dose of strictly, a narrow waist define this period. Skirts have cut in A-shape, a slightly shorter. During this period, women began to wear pants and costumes, skirts, and jackets, representing a new level of women's sexuality. She takes even more responsibilities and becomes stronger and stronger, illustrated through how she dresses.
photo: pinterest.com; sammydvintage.com
A new wave of fashion trends emerged after World War II when Dior designed the New Look in 1947. The new style needed to neutralize the devastation of war and bring glamor and sophistication to the new look. A very feminine line in the dresses cuts, wavy hair, and high heels especially marked the cinematography of the 20th century. The film industry is developing more and more, and at the same time (in the 1950s), it represents an entirely new type of woman. She is an enchanting blonde, with lush curves, and the well-known Marilyn Monroe.
A decade later, a completely different atmosphere reigns, utterly unknown to traditional aristocratic principles, thus announcing another fashion revolution and movements formed through new political and cultural attitudes. This new influence during the sixties and seventies dictated the unisex fashion, when even in the visual sense, there is an equality between man and woman. That creates an introduction to the new and unfettered eroticism.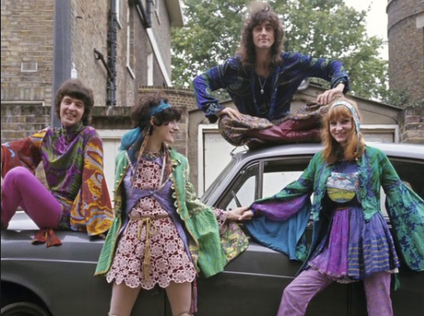 Photo: sutori.com
 literature
Moda i odevanje- Marina Ranisijevic